We are so excited to announce that Baby Be Hip has now introduced some of your favorite Angel Dear products to our baby store for even more cool baby gifts! Our customers have been asking for the Angel Dear Blankies (aka) and they wanted them personalized, for that extra special touch, so that's what we have. An Angel Dear Blankie would be too lonely without the matching animal blanket so we paired them up together. As an added bonus included in these gift sets is a matching Perfection, we say!

We are starting out with the in the giraffe pattern in both hot pink and turquoise which are plenty bright and fun for the new baby boy or girl. Babies love the softness of these and blankets because they feel just like cashmere, but they're not (, don't tell anyone, they'd never know). Besides the softness, the babies love to cuddle and snuggle with those animal heads. You can bet they will be a favorite at nap time and night time and anytime you need a little extra love their buddy will be the one they want when they can't have you! You have your choice of monogram fonts to design the gift the way you'd like it. Here's the Angel Dear Pink Giraffe Animal Blanket For Baby Girl. Looking for something for the little guy or a non-pink option for a baby girl, check out the Angel Dear Personalized Giraffe Blankie & Rattle Gift Set with Onesie At this point, you can buy the blankets individually or as a full gift set.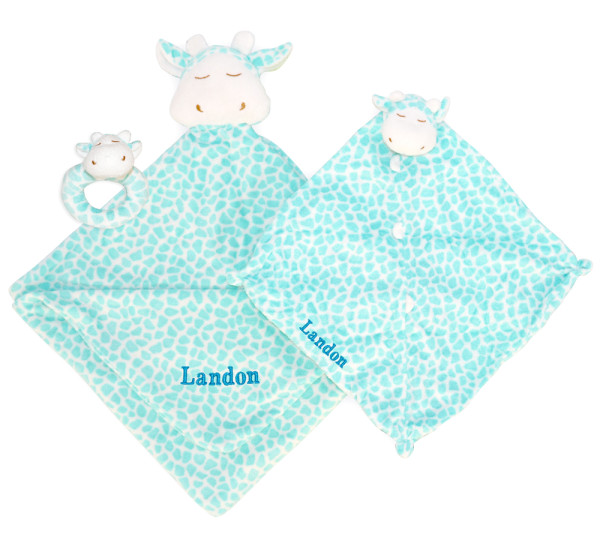 Also, from Angel Dear we have their new bamboo gauze-like blankets and baby bibs in the popular pink and blue and color combinations. We've added all of these gift sets to our new Soft Palette Collection, which has so many beautiful baby gift sets in the softest shades that many moms are loving these days.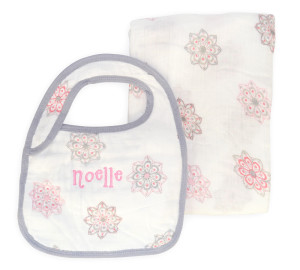 So, if you are looking for a little more sophisticated baby gift set, check out what we've paired up with the Angel Dear goodies right here. We have the very light weight and luxurious swaddle blankets made from 100% bamboo muslin, these silky-smooth swaddle blankets are ideal for your baby's sensitive skin. Moms love them because they're perfect for swaddling a newborn baby in the early days and then they transition to a baby blanket for hot days and cool nights as well as a nursing cover. The patterns we are offering is the damask patterns. We wanted to make some really great baby gift sets and baskets so we've paired these blankets with the matching Angel Dear bibs which help wiping up the drool easy and perfect for those sensitive At Baby Be Hip, we are all about creating high quality and special gifts which means these bibs will be personalized just for the new baby. As you may or may not know, Baby Be Hip is known for our unique personalized baby gifts and we made some new ones with the Angel Dear additions that we think all new parents will love! Check out some of our new baby gifts for boys and girls. If you can't find what you are looking for, please call us or email us and we'd love to help you out!