Super Bowl Sunday is right around the corner. Need a last minute idea to make it seem like you've been planning for weeks? Here are some Super Bowl Snacks for our favorite Baby Be Hip fans.
1.A Super Bowl Snack Stadium (Varsity Level) Check these babies out! Now, this is for you over achievers out there who have lots of time on your hands and really want to impress. This will be time consuming, but the end result will be fab! You can use your creativity and build your "fans" and "field" with just about any finger food you can find. If you search the web, you'll find many variations of this great idea. We found step by step directions for an easy one: click here- http://mashable.com/2015/01/28/snack-stadium-instructions/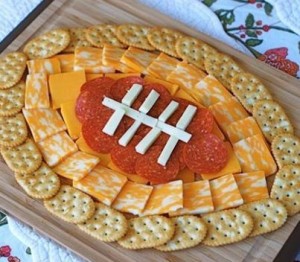 2.Festive Chocolate Covered Strawberries (Junior Varsity Level) If you'd like to impress, but want it to be a wee bit simpler, try this: Transform your strawberries into these adorable edible footballs. Ingredients: Strawberries, melted chocolate and white icing in a tube or bag w/ a fine decorating tip. Dip strawberries in melted chocolate, let dry on wax paper, draw football strings and stripes with white icing. Arrange on a cake plate. They are rather simple to make and you'll look like a star! Variation: Chocolate cupcakes or cookies can be transformed into footballs as well.
3. Football Cheese Tray (Pee-Wee Level) If you're like us and don't have a lot of time on your hands, but aim to please, try this football snack tray. Arrange Crackers, cheese and pepperoni as pictured below on a tray to resemble a football. It'll just take a little extra time and your favorite sports fans will be cheering for you!!
Thanks to cookingchanneltv.com, buzzfeed.com and babble.com for these great images.