Here at Baby Be Hip we are learning that Personalized Burp Cloths are used for many different things other than just spit ups and clean ups. In some cases, they become doll blankets, play kitchen towels and even security blankets aka "" or "". We recently heard from one loyal customer who has a funny tale about her son Catlin and his deep love affair with his Baby Be Hip Personalized Burp Cloths. Here is her adorable story and plea for us to rush Catlin his "".
"Hi! My two boys have used your burp cloths since birth, but only one of them, Catlin, has fallen deeply in love with his "Blankies". He had 5 at one over the years we've lost them one by one. He used to carry one of them everywhere, now he only sleeps with them. When his supply was exhausted, I went into the attic and pulled out his older brother's baby be hip burp cloths and Catlin has been using them for a year or so now as his beloved blankies. (see attached, poor Catlin walking about with Robert's burp cloth, totally unaware)
Tonight, it all came to a crashing end. He's now 3.5 and noticed that his blankies all have an "R" on them…his older brother is Robert. 'Where are MINE?" he asked. I explained we had lost them out and about over the years, said that one had been lost in NYC for example, and he's been using and loving Robert's old ones. He fell into a terrible sad state, heaving and crying "I miss my blankies! Are they in new york city in the TRASH!" with enormous tears streaming down his face. We just ordered three with his name on them, but I write to ask if you could PLEASE PLEASE rush the order as best you can because we have one sad, sad, little fella here in Connecticut."
He also knocked out his tooth recently…see attached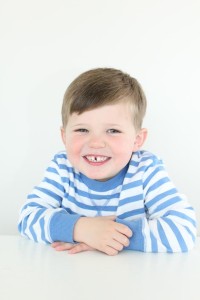 Thanks a million!
Kristin Lang
Anguished Mom"
We hate to hear of sad little boys and anguished moms here at Baby Be Hip so of course we made sure Catlin's very own personalized burp cloths were on the next truck out of town. We didn't even have to go dumpster diving in NYC! We can just imagine his big (recently toothless smile) when he recognized his own name on his "blankie". No R!
Thanks so much for your story, Kristin! We were glad to set everything right in poor little Catlin's world which was temporarily out of sorts!
And don't worry Kristin! You're not the first distraught mom we've heard from here at Baby Be Hip. We've had customers who have overnighted security blankets and snugglers. Oh, the things we do for love!
Click here to see the many lives of some of our Personalized Burp Cloths :
3 Ways to Reuse Personalized Burp Cloths.
Shop Personalized Burp Cloths here!
Have a "lovey" story to share? We'd love to hear from you!