Elephants here, elephants there, elephants everywhere!
You've seen elephants on the Discovery Channel, and now your seeing them in baby nursery's!
These gentle giants are making a HUGE comeback
One reason as to why your Pinterest feed is filled with elephants is due to the "Wildlife War" taking the world by storm. In recent years the elephant population has been diminishing at an alarmingly fast rate, but 2015 marks a year of new conservation. Over the past few months, African countries have come together, stronger than ever before, to ban the illegal poaching and trafficking of their beloved elephants. By 2016 conservationists are looking to see a positive change in population rates, which has not been achieved in decades. You can go to www.savetheelephants.com to see how other countries are taking the stride to #savetheelephants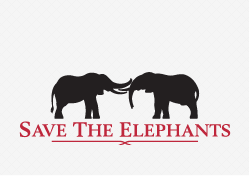 The 2015 elephant craze is also linked to cultural beliefs dating back to ancient Asia. Thousands of years ago elephants were depicted as symbols of strength, wisdom, and good fortune. Ancient civilizations believed that by honoring and respecting these peaceful creatures they could attain these qualities for themselves. Today it seems as if the tradition lives on, as elephants make their stomp in the nursery. Not only does the presence of an elephant in your nursery promote wisdom and good luck, but it also encourages your little one to dream BIG!

*fun fact- According to Feng Shui, when placed correctly the elephant can act as a guardian or protector of a household AND promote prosperity at the same time! To (Ele)feng-Shui your nursery place an elephant in the room with its trunk facing upwards and away from the door. And Voila! Now your guardian elephant can keep watch over your little one!
…
When we saw that elephants were the new "It" animal of nursery's, we created The Elephant Collection! The collection features burps, bibs, buckets, blankets, snugglers, and canvas prints adorned with an elephant applique, designed to capture the strength, wisdom and intelligence of these gentle giants.
The Elephant Collection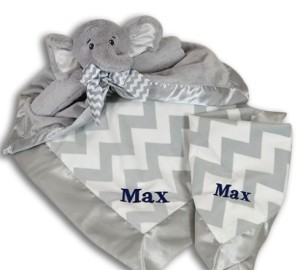 Chevron Elephant Canvas Print Chevron Elephant Snuggler Set for Him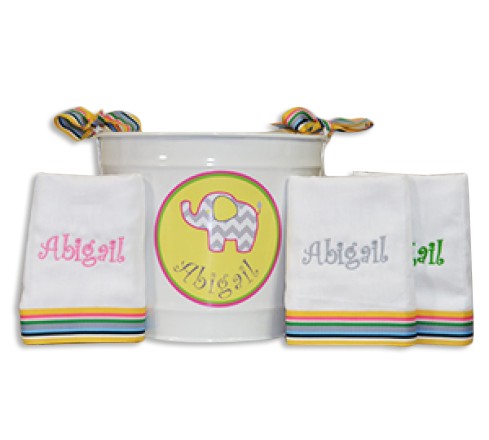 Elephant Bucket and Burps Gift Set Elephant Snuggler Bucket Gift Set
Click on the pictures above to get started personalizing an elephant gift of your own!!!
&
Check out our website for more cuddly elephants!