Sometimes those without children ask us this exact question about the significance of personalized baby gifts and they want to know what's the big deal? They just don't get it and think that a generic baby blanket or a random piece of artwork would make do when it comes to gift giving for the new baby. But once we explain to them just why these baby gifts are such a hit, we usually get a great big, " AHA!"
You see new parents think long and hard about the perfect baby name for their new baby. And sometimes it goes back way before that. Before I even met my husband, I knew that my first daughter was going to be named, Molly. Yes, I loved her name that much. When I met Brad, it was one of those things that he had to accept about me if we were going to enter into a long term relationship. Guess what, my oldest daughter's name is Molly.
So to get back on point, thinking about the naming of your new baby is huge. Expectant parents do hours of research online, in baby books, asking friends and family, and perhaps even a few arguments until the perfect name is chosen for their new baby. Some keep it a secret whereas others divulge it right away.
Once their new baby arrives, they proudly show off that sweet baby in every way possible. Many gifts and flowers and meals arrive for the new parents and they are overwhelmed in a good way. Some outfits are sent as gifts and sadly, the baby has outgrown them before mom gets a chance to put the baby in them (yes, I'm guilty of that). There are other gifts that are beautiful but don't necessarily jive with the parents' decor or taste BUT there are some gifts that are loved, adored, used and kept forever….. Yes, the gifts that are personalized with their baby's name on them. The name the parents thought over and agreed upon and now it's right there monogrammed in front of them. These are the gifts that the parents will love because it touches their heart. It is for their baby and it was made especially with them in mind. Imagine their reaction whey they open up a gift like this versus an outfit, a stuffed animal or some flowers. Yes, pure joy!!!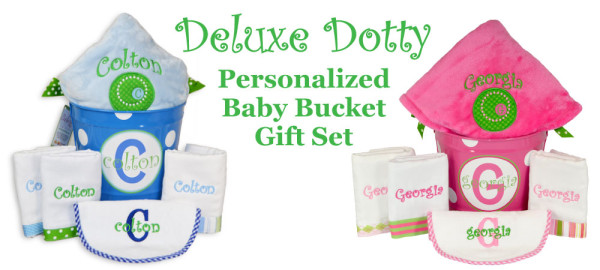 Next time you are unsure about what to get as a gift for the new baby, remember this and the reason why personalized baby gifts are so special. Do it for them. They will be glad you did. Don't see what you like on Baby Be Hip , give us a call and let's see if we can help.