Nobody gives better parenting advice than the parents themselves. We gathered some of the best tips and words of wisdom for new parents from our Baby Be Hip customers collected through the years below. What do you think? What would you add to the list?
Trust Your Instincts
"As a first time Mom, I was so nervous about how I'd know what to do from the small things to the big decisions. What I learned was that you develop natural instincts and you need to let those guide you. Don't be afraid to make mistakes. If something doesn't work, you just try something else." — Heather Santone
"Many people will give you parenting advice; but do what is best for you, your baby, and your family. And, cherish every moment because it goes by in a blink of an eye."— Kati Keating
"Follow your instincts. You read and hear a lot of advice, but you have to do what feels right for your child and family." — Margaret Sales
"Don't worry about holding your baby a certain way or doing something wrong however you will feel right to them!" —Joanne Hess
"Have confidence in yourself. Don't worry about people judging you and don't judge yourself. Just do your best and love your kids." —Joanne Hess
"Don't read too much. If you are a parent by listening to your baby and your gut, you won't go wrong. If you're too busy thinking, "am I doing this right?" because "the book said", you will drive yourself crazy and miss the signals that your baby is giving you. Do what is best for you, your baby, and your family. Don't try to keep up with the Jones'." —Bobbi Kelly
"Pick your battles – it's okay to worry about the important things and trust your instincts (health, safety, etc.), but try to stay relaxed about the less important things." —Alyssa Koerner
Take Time for Yourself
"Don't be afraid to say yes to girls' night out or date night with hubby. It will be better for your kiddies in the long run." —Bethanne Brown
"Find a good babysitter, someone you trust completely, and schedule a massage for yourself and/or a date night with your spouse. Do whatever it is that you would consider a "treat." These little loves we call our children can truly suck the life out of you sometimes. It's so easy to get lost in the day-to-day routine and forget about taking care of yourself and other relationships." —Cathleen Nalli
"Take naps when your newborn baby takes a nap." —Katie Hayes
"The best advice I ever received was to take a shower and get dressed every morning! As a new easy to put the kids ahead of yourself. Before you know it, you've gotten the kids fed, dressed, cleaned up the house and now it's lunch time, and you're still in pajamas. I have much better days when I can wake up before the kids, shower, and enjoy a cup of coffee before my day starts. I'm more likely to leave the house and be in a better mood." —Melody Johnson
"Take a nap when you put your baby down for a nap. The laundry and will need to get done, but it's important to take care of you too!" —Lindsay Reilly
"Let people help you—whether it be your family or hired help—to make time when possible for yourself, to stop worrying about all of the baby books and the rules doing it all right, and to schedule a babysitter for every Saturday night so you can spend time with your husband." —Kelly Pustizzi
"I say just stay positive and survive the first 5 months. Let your husband handle some night feedings with a bottle he won't screw it up that bad." —Ron Stempin
Enjoy Them
"Keep a journal to write down all the funny things they say when they are little… Now that they are growing up, – I look back and laugh remembering all the little funny things along with way." ~ Corrinne Kalinkowski
"Don't wish the time away. There are many days that seem so in the end the years are short. I am feeling that so much now as my kids are growing up." ~ Dawn Druhot
"Truly enjoy EVERY minute, take a ton of photographs, keep a scrapbook and video, video, video!" ~ Lindsay Reilly
"A great had with my kids was reading to were in middle school! There's something very bonding about reading together in bed and sharing thoughts about the stories. It was so fun reading chapter books and begging for one more chapter! Different books we read together come up in now years later." ~ Joane Hess
"It is so cliché, but it does go fast so enjoy every second of it. Looking back, I even miss some of those late night feedings." ~ Nicole Eisenberg
"Enjoy every single minute, even the not so fun ones, because they go by way too fast." ~ Mindy Poland
"You will never have this day with your children again. Tomorrow, they'll be a little older than they were today. This day is a gift. Breathe and notice. Smell and touch them; study their faces and little feet and pay attention. RELISH THE CHARMS of THE PRESENT. Enjoy today, it will be over before you know it." ~ Lindsay Reilly
"Celebrate the small moments, too. It holds true now more so ever. The small milestones that occur in between the major ones are equally as important. We try to celebrate learning how to color and starting to sing as much as we do to crawl and walk. It all goes by so quickly, enjoy the small moments as much as the big ones." ~ Stephanie Leone
"Be quiet and listen. I love to lay with my kids when they are going to bed for a few minutes to ask them what's new and how school was that day and then I just listen to everything they have to tell me. The more you listen, the more they talk." ~ Mindy Poland
Getting Through The Tough Times
"The Serenity Prayer helps me get through those rough patches… 'God grant me the serenity to accept the things I cannot change; the courage to change the things I can; and the wisdom to know the difference.' I also pray for peace and patience!!!! " ~ Bethane Brown
"Count to 10 (slowly) before reacting, when necessary and if possible." ~ Bridget Vohs
"When you are adapting to life with a new baby don't set yourself up for failure. I am a "list" person. During the first 12 weeks I made one list per day a three inch If it couldn't fit on the it didn't get completed. If I didn't complete it that day I started a new list over and added the remaining items. Usually there were only 3-5 things on it at a time." Kimberly Wolff
"No matter how many books and websites you read, other parents are a great resource and sometimes have the answers to questions you haven't even thought of yet!" ~ Stephanie Leone
"All of the horrible phases, i.e., waking up at night, not napping would only last a week and to hang in it's basically true. If you can keep it together for a week those things usually pass." ~ Mindy Poland
"Be patient." ~ Alyssa Koerner
"Don't take things personally. Sometimes people – including my kids – say mean or hurtful things or get really stressed out, but generally it's not about you. When it is, own up to it, but when it go and try to understand what's going on in their life." ~ Patty First
Get Involved
"Our children are now 19 and 12 years old. When my husband and I were new parents someone told us that if we found that our children had a particular interest in it be sports, dance, theatre or something altogether different, become involved as a parent. Don't just sit on the sidelines. Learn everything that you can about the activity that your child loves. Find positive ways to help your child improve and grow. Be present, active, and always willing to lend a hand with booster clubs, parent organizations, or volunteer opportunities. Through their activities, our kids have let us experience some things that we knew absolutely nothing about. It has been so fun and a real blessing to gain knowledge and understanding, about our children's interests and activities. Another benefit has been the opportunity to develop life long friendships with other parents through these activities!" ~ Charlotte Mitchell
Perspective
"The very best advice I ever got about being a parent was to always remain calm. Before I became was a very anxious and "high strung" person. The birth of my daughter completely changed me into this calm, relaxed individual. I truly feel that the baby feeds off of the parents' energy. If I was calm, the baby would be calm. This proved true for us." Lynn Wolf
"Listen to your kids – they will tell you what they need; but what they need and what they want are two entirely different things – know the difference." ~ Caroline Joyce
"Parenting is a marathon, not a don't go for the easy fix. Go for the end result you're hoping for and your child will turn out to be an amazing young man (or woman)." ~ Valerie Sands
"Everything is temporary. The good times, the bad times, potty training, first day of school, sleep training, learning to tie shoes, learning to drive, choosing colleges. Don't linger in any single phase because there is another coming up right behind it that will be just as wondrous (or frustrating!). Fully experience every moment and appreciate it for everything that it is – full of love, and fleeting. It can help you cope better with the inevitable tough times, and reminds you to appreciate every single second of the good ones. Take time, pause, breath in deeply, and experience every wonderful smell and taste and feel of the child in your arms." ~ Kim Van Orman
"The best parenting advice I ever received was to view life like a book and to live my life in chapters. Whenever I want to lament over my house not being drop- in guest perfect, or that I don't always get many things checked off my to-do list, I realize that the time will come when my life will incorporate those things I just can't get to right now. Living my life in chapters lets me see the humor in raising three kids and not be such a frustrated, crazy parent. Saying to myself "This is the chapter I am in" takes the pressure off from having it all right now embracing where I am right now. So, I am through my "2 kids in diapers" chapter and am currently in the middle of my "chauffeur duty is a part-time job" chapter. And as I look at my 11 year old, who is my height now, I wistfully think about how life, like a good book, really does seem to be speeding by." ~ Camilla Worrell
"Don't sweat the small stuff. Which is not very easy raising children in this day and age. But the older I get, the better I am getting at letting things go and not being bothered by stupid things that may occur." ~ Allison Billingsley
"Just go with baby's lead at first before trying to enforce schedules and reaching milestones and expectations; I truly believe babies mirror their parents as far as their personalities and dispositions – a nervous and anxious parent will have a nervous and anxious baby." ~ Valerie Gaffin
"Everything is a don't worry much about the things that are hard and soak up the things that are good. It will all change soon." ~ Mary Elizabeth Ellis
"Find balance between being a scheduled parent and a flexible one. I do believe kids need they also need to learn to be flexible and adjust to your schedule on occasion." ~ Mary Baxter
"Surrender to the chaos! I was told this by the nurse leading a breastfeeding support group for new moms with babies 0-8 weeks. I attended when I had my first child because it was offered by the hospital. It still holds true today." ~ Kimberly Wolff
"Many mothers with children in college have told me to cherish the time when my children are young since they will be off on their own in what will feel like a blink of the eye. I try to remember this when my daughter is having a tantrum!" ~Margaret Sales
"It's just a too shall pass." ~ Valerie Gaffin
"You have the power to control your life experience. Choose to see happiness and you will be happy." Mary Elizabeth Ellis
"No one is perfect, so don't try to be! We all have our moments and it is so much easier to laugh about them than to stress over them." ~ Nicole Eisenberg
"Nothing is permanent. Said by my husband) When you think your kid will never sleep the night all of a sudden the next week they do. This also refers to the good stuff. When you think you have it all figured out they throw you a curve ball. Everything is always changing, so enjoy it all because none of it is permanent and it goes by so fast!" ~ Mary Baxter
Independence
"Let your children be independent." This is a challenge for parents because it is hard to draw the line between when a child needs assistance and when a child is able to do tasks on his/her own. Allowing your children to be independent will provide them with the tools they need to grow and foster eventual independence. This is especially challenging for mothers, as they naturally want to do everything for their children; however, refraining from doing so at times is probably the most helpful thing a parent can do. Further challenging this strategy, your children will likely complain in the immediate will ultimately be the subject of much gratitude when they reach adulthood." ~ Christine Brown
Love Them
"Overuse 'I Love You'. I think I may have heard that from a country song." ~ Bridget Vohs
"I would say spend as much time as you can with your kids while they are little because the time they have available once school, sports and friends come into the picture is very scarce. And the one piece of advice that I give myself every day is to love them the most when they deserve it the least. You can't love them too much." ~ Mindy Poland
"Hug your children every day and tell them you love them!" Courtney Lofgren
Sleep
"Start a schedule early on. Our son began sleeping 12 hour nights at 10 weeks and has consistently stuck with this in addition to a great napping schedule. We attribute this to implementing the sleeping and feeding schedule early on." ~ Jaime Jones Kemper
"Parenting tip: don't rock your child all the way to sleep, put them down awake after comforting them so they learn to sleep on their own." ~ Noel Bruno
"Never wake a sleeping baby"
"Sleepless nights will not be forever. Remember that."
"A ride in the car works wonders when you have a tired and crabby baby."
Best Baby Gift from Baby Be Hip:
Personalized Burp Cloths:
"The personalized burp cloths. They are so cute and very absorbent." ~ Michelle McNulty
" As I remember, a gift that I give anyone that has had a baby is the set of three personalized burp cloths. Everyone I have given them to love them, and now pretty much expect to get them for their next child. I have the burp cloths for Ireland. They are so absorbent, and I love seeing her name on things." ~ Kati Keating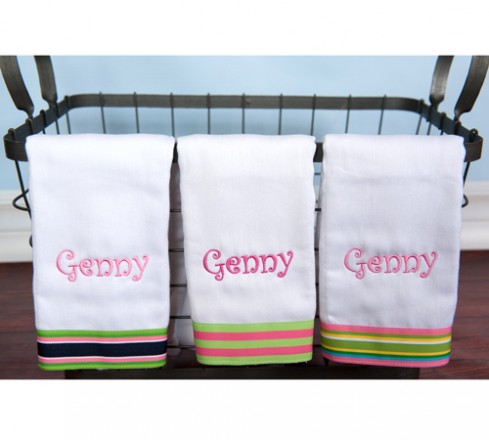 "Always the personalized burp cloths. Everyone needs them- why not make them cute and personal? I don't think I have actually gone shopping for baby gifts in 10 to Baby Be Hip." ~ Dawn Druhot
"I have been a BBH for several years now. I LOVE this company and I have recommended it to many friends! They are always prompt to contact me when I have asked questions or had special requests. Also, it is so neat that the staff will email a photo of my purchase just before it is ready to ship! Now that is what I call personal service! My favorite product from BBH are the personalized burp cloths. New mother's LOVE to receive a gift displaying their baby's name or initials. The burp cloths are adorable, useful, and durable. In addition, the burp cloths are keepsakes! I feel that every item that I have purchased has been made with love and attention to detail! Brava to the BBH team!" ~ Charlotte Mitchell
"My favorite product is EVERYTHING! But I seem to always go with the personalized burp cloths for gifts. They are perfect!" ~ Lynn Wolff "Hands down the personalized burp cloths I just love giving these as gifts. The turnaround time is so fast usually it is the first personalized gift the new parents receive and I love that." ~ Kimberly Wolff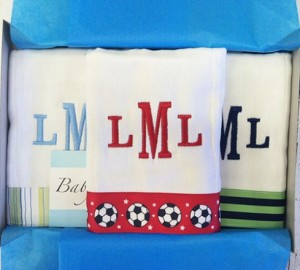 "For sure the monogrammed burp cloths I have been sending them as gifts since Colleen started making them. I remember her talking about her burp cloth ideas when our first born were babies. How she could market them, she's come a long way and I couldn't be prouder!" ~ Allison Billingsley
Seersucker Collection:
"I love all Baby Be Hip products, but my favorite would have to be the seersucker backpack. I think it's great for trips to church, grandparents, and it's preppy and adorable. . BBH. !!!!" ~ Bethanne Brown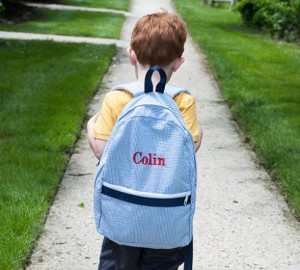 "My favorite product to send as a gift is the Bib & Burp Cloth Combo My daughter received one when she was born and I loved having something cute and stylish with her name on up/drool/food while we were out and about. I also enjoy picking out different ribbons to match the personality and style of the family receiving the gift." ~ Margaret Sales
"Loved the personalized tote bag and burp cloths. I think monogrammed gifts are so for second children who often get hand-me-downs. It is nice to have something just for them." ~ Federicka Gorham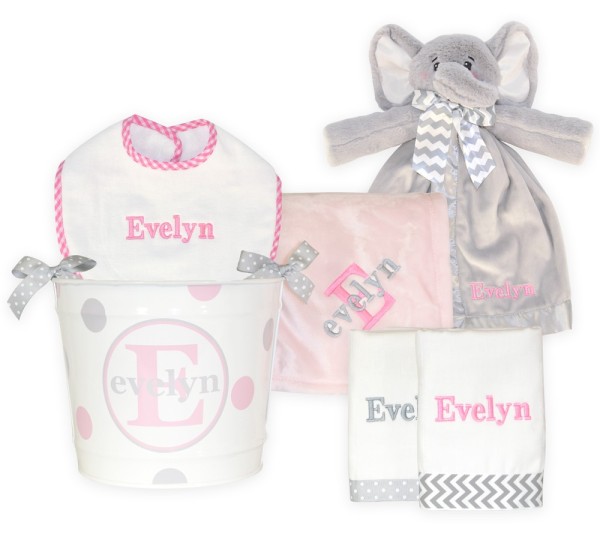 We have added so many products and baby bucket gift sets as an alternate to the traditional baby baskets at Baby Be Hip and would love to hear what your favorite Baby Be Hip product is now!